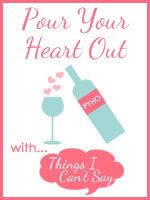 I decided to pour my heart out today. Typically I am not one to open myself up and talk about TRUE emotions, so please bear with me.
While I was running last night I started to think about something; I love my body! I know so many women out there do not, they look at themselves and see all the imperfection on their bodies. Now trust me, I see plenty of imperfections on my body, there are things that I would love to change and there have been plenty of times that I have hated my body.
I would love to loose the 9 lbs. that are on my body so that I am back to the weight I was when I walked down the isle to marry hubs. I would love to have something that resembles breasts on my body after nursing two children, they just don't seem the same. The spider veins on my legs, would so love them to be gone, would love for the giggle of my tummy bulge to not be there when I run or the hints of bruises on my tummy to be gone (Lovenox injections). I go mad at my body for having issues when it came to pregnancy. So you can see, there are things about my body that I do look at and have issues with.
BUT THAT DOESN'T MEAN I DON'T LOVE MY BODY!
I love my body for what it is. A body that carried and nursed two amazing children. A body that completed a sprint triathlon. A body that can make my children safe and happy just by holding them. A body that can turn my husband on just by the way it moves. A body that is mine, that I love!
So I embrace my body, tummy bulge and all, because I love it!